Transgender, Intersex, GenderQueer & Non-Binary

Diversity and Awareness Training & Education
Research • Lecturing • Advice • Writing • Projects

Definition | Prevalence | Legal | Services | GICs | Norfolk | Clients | Projects | Talks | Articles | News | Links | Contact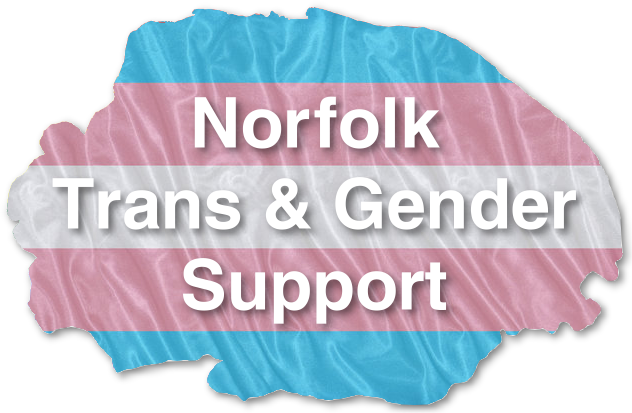 Services within Norfolk, UK:
Oasis for male-to-female trans aged 18-60+ (1987), BRA, Trans conference
Gender Assessment Clinic (relaunched 2014 & 2016 see below), Julian Hospital
Norfolk Trans Forum for male-to-female trans, aged 25+
MAP (Mancroft Advice Project) Evolve - Support for trans, intersex, non-binary & gender questioning youth, aged 11-25)
GenderAgenda - Training & Teaching on trans & sex/gender issues (2007)
Norwich Drag Kings (dormant?)
SOFFAs of FTM
Norfolk Gender Identity Clinic, Town Close, 01603 421710 (2014)
Non-Binary East Anglia (2014)
FIN - Forum for Intersex in Norfolk (2015)
Transition - Social & Support for Trans & Intersex in Norfolk, aged 21-35 (2016)
Norfolk Trans SOFA - Support for Signficant Others, Friends/Family & Allies of Trans (2016)
Oasis
Oasis was founded in 1987 by Barbara Ross and also led to the founding of the Transgender Conference, usually at the UEA, and fostered by the Barbara Ross Association. Oasis caters for male to female transwomen and transvestites questioning their gender identity and meets the third Saturday of each month.
beccielouise@yahoo.co.uk | Oasis 

Norfolk Gender Dysphoria Clinic
Based at the Town Close Clinic, Julian Hospital, Norwich, originally founded by Dr Ted Olive and Barbara Ross, it was terminated in 2013 due to NHS commissioning changes and rebooted in June 2014 under Dr Hadrian Ball. It is not a full Gender Identity Clinic (GIC) but an additional link in the chain of referral between GPs and GICs, it may add a stage to your referral, but it can also help support and chase along later procedures. It is funded and aims to become a centre of excellence. It is currently staffed by two psychiatrists: Dr Vivek Agarwal and Dr Liam Callinan.
01603 421196 or 421800

Norfolk Trans Forum
Norfolk Trans Forum is a self help group for transsexuals, their partners and family, that is part of Norfolk LGBT Project meeting every second Monday of the month, 6.30pm at 10 Cathedral St, Norwich or the third Thursday 1-3pm. Check Facebook or email for details.
07539 082406 | 01603 219 299 | Trans@norfolklgbtproject.co.uk 

MAP Evolve
Aimed at young people aged from 11-25 and inclusive of MTF, FTM, and Non-Binary gender identity questioning. Part of the Mancroft Advice Project (MAP)
01603 766994

GenderAgenda
Formed in 2007 to foster training, education and support around trans identities.
07808 970429 | 01603 612606 | info@genderagenda.net | GenderAgenda on Facebook | GenderAgenda on Twitter

Norwich Drag Kings
Now dormant the group used to provide opportunity for people born women to experiment with and explore cross-sex presentation and/or identification.

Trans Discrimination Reporting Group
Formed in 2011 to encourage trans people to build confidence around reporting hate crimes and appealing discrimination in goods and services.
TDR Norfolk on Facebook

FTM Norfolk
Founded to offer support to people born female questioning and/or transitioning to male. Meets first Monday of the month at 10 Cathedral St, Norwich
FTMNorfolk@gmail.com

SOFFAs of FTM
Supporting significant others, friends, families and allies of FTM people. Meets first Monday of the month at 10 Cathedral St, Norwich
softmnorfolk@gmail.com

Non-Binary East Anglia
Founded in 2014 to provide a space for non-binary, genderqueer, greygender and agender discussion and support
Non-Binary East Anglia

FIN - Forum for Intersex in Norfolk
A discreet group that emerged in late 2014 after an intersex consultation with Stonewall (England and Wales) and which saw the need to allow intersex people in Norfolk to both organise, share, and support.

Transition
Transition provides peer social support for Trans & Intersex in Norfolk, aged 21-35.

Norfolk Trans SOFA
A place for support, discussion, questions and sharing for Significant Others, Friends & Family, Allies of Trans* & Gender questioning people. Meets last Tuesday of the month in Norwich. Call/text 07808 970429 for venue.
Contact us:
4 Crown Point Drive, Private Rd,
Bixley, Norwich, NR14 8RR, UK
Tel: 0844 808 3699
Mob: 07808 970429
Email | Facebook | Twitter